---
Elegance in Wood for the Discriminating Stitcher
---
Sylvan Treasures
---
Sylvan Treasures offers unique needleworking tools and other fine accessories hand crafted from the finest American grown hardwoods.
Current products include laying tools, also called stroking tools or stilettos; awls; large and small orts bowls for collection of cutoff thread ends and other leftover bits from your stitching; display bowls, for the presentation and display of needlework items; thimbles; and various open bowls, platters, boxes and display items. All are available in several styles, sizes and materials to satisfy individual preferences.

Laying Tools and Awls ~
Our laying tools and awls are turned from many American hardwoods including: apple, beech, birch, chestnut, cherry, maple, hickory, mulberry, mahogany, osage orange, walnut or combinations of walnut and maple or walnut and osage orange and selected tropical hardwoods. Our laying tools are sized to fit any hand and range from 5 1/2" long by 3/8" in diameter to 7 1/2" long by 3/4" diameter on the held end. Stitchers with arthritic hands find the larger sizes especially helpful. Each tool tapers gracefully to a smooth working point. Prices start at $36.00; ranging to $52.00 for more complicated designs and hand carved enhancements. Our awls, like laying tools writ small, are all about 3 1/2" long and 1/4" to 5/16" in diameter.
Orts and Display Bowls ~
Our orts and display bowls are turned from many American hardwoods including: apple, beech, birch, chestnut, cherry, mahogany, maple, mulberry, osage orange, pear, sassafras, sycamore, or walnut and selected tropical hardwoods. Other woods are occasionally available when pieces of nice figure are located. Some bowls are turned from segmented blocks to offer exceptional figure and pattern and improved strength; a process much like quilting with wood.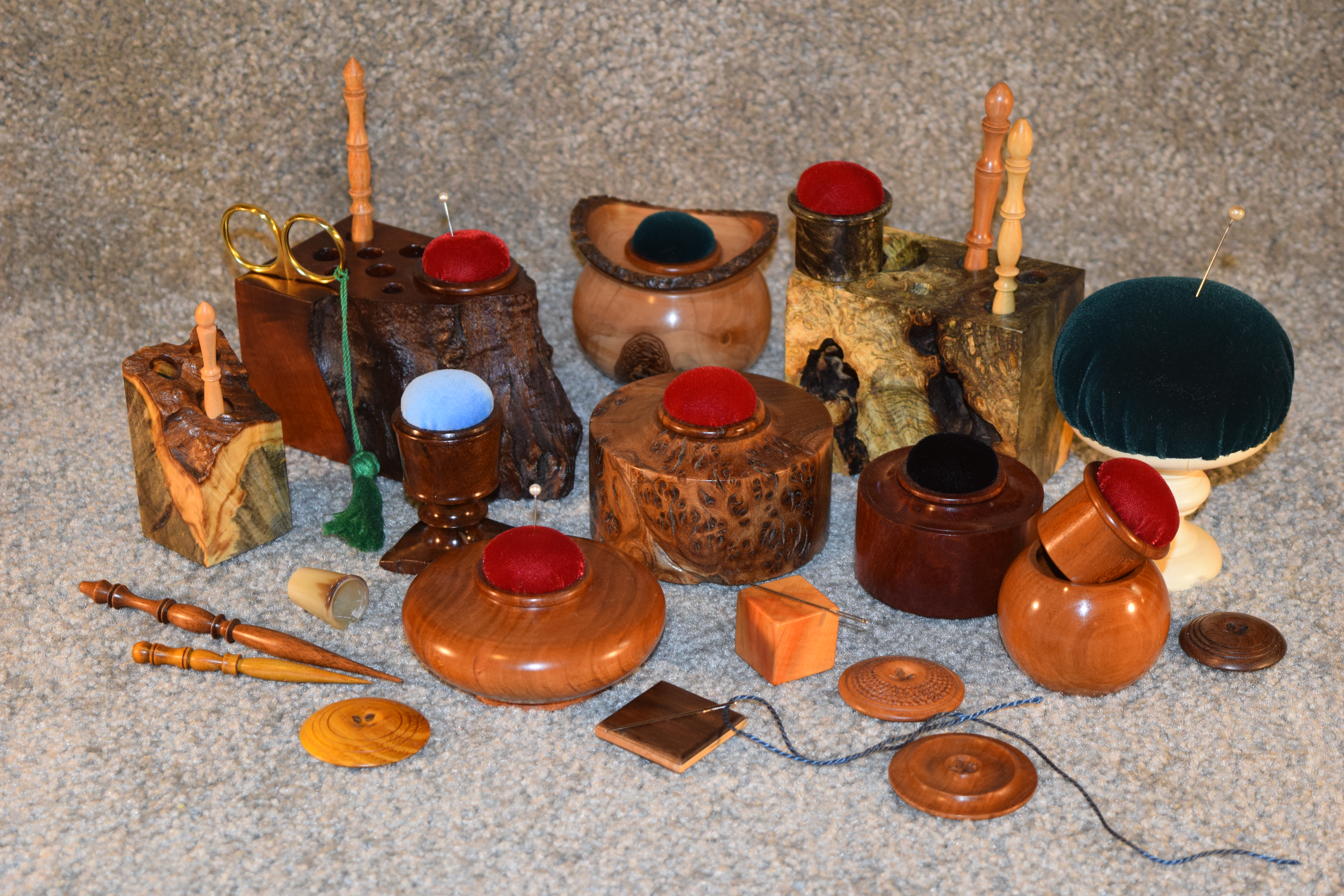 The typical larger bowl design includes a large top opening for ease in removing the collected orts. This opening is fitted with a close fitting annular ring with a small center opening to accept the orts during use. The small opening is sized to accept a cup of matching wood holding a velvet covered pin cushion. The smaller sized bowls ("babies") have no annular ring, only the opening for the pin cushion cup. Orts bowl sizes range from 2" to 4 1/2" in diameter and from 1 3/4" to 4 1/2" high. Display bowls have openings ranging from 3" to 6" (by 1/2" increments).
No two bowls are identical because of the characteristics of the particular piece of wood and the mood of the craftsman at the time the piece is turned. Prices range from $65.00 for the "babies" to $250.00 for segmented pieces of outstanding figure or pattern. The listed prices include a velvet pin cushion in the color of your choice. Velvet colors available include: wine, dark brown, black, holiday red, navy and dark green. Contact us about the availability of other colors or using velvet fabric you provide.

Product Information ~
Our goal is to offer high quality products that provide an elegant enhancement to your stitching activities. We believe we have succeeded and support this belief and our products with a No quibble warranty you can view here.
While the items in the following gallery pages are intended to be representative of our inventory, all are one of a kind and subject to prior sale. If the desired item has been sold, a similar item may be available or can be crafted upon request.
Each gallery page contains a scrollable row of thumbnail images along the left side. Click a thumbnail to see a larger picture of the item along with descriptive information and price.
Picture gallery of representative Sylvan Treasures products.

Return here using the <BACK> button.
Descriptions and characteristics of the various wood species used by Sylvan Treasures are available at the U.S. Forrest Service web page or at the Ohio State University. Another page with good wood information is The WoodBox.
While we prefer to minimize use of tropical hardwoods because of the environmental damage often associated with their harvest we will use species that we believe are harvested responsibly.
Ordering ~
As our product selection is predominately one of a kind items, the ordering process can become complex. We have found that the process works best interactively as follows.
So, to place an order, please contact us with the Picture Number from the top line of the large image in the Gallery and provide a Postal shipping address and an e-mail address or phone number. Also indicate whether a similar item can be substituted if the item requested is unavailable. If so, a digital picture of the suggested replacement item will be posted to our Web site and you will be sent the direct URL so you can confirm that our alternative choice is satisfactory.
You may also consider specifying a Picture Number as a design or style pattern, and state the approximate size desired and a wood or color possibly by Picture Number as well.
Orders shipped to addresses in Virginia are subject to Sales Tax. Shipping and handling for most items (3 or fewer) is $5.00 and shipment will be by Priority Mail so that delivery to P.O. Box addresses works.
Payment must be by personal check, Money Order or PayPal as we do not currently accept Credit Cards directly. Our use of PayPal is unconventional; you will not see Buy Now or Add to Cart buttons with our items. Once we confirm that the desired items are available we will provide a PayPal link in the e-mail or by providing a link to a restricted page on our web site. This link will be configured for the total price of the selected items and S/H including the PayPal Service Fee of $2-$3.
Sylvan Treasures is happy to consider commissions or custom orders for particular styles, sizes or wood species if our available products do not meet your desires. Delivery times will range from 30 to 60 days after we receive your order. Longer if the wood species desired is not in stock and must be acquired or dried.
Should you place an order with us, it will of necessity contain sensitive personal information. We will protect this information and your privacy. Please see this page for our Privacy Policy.
---
Please contact us for orders, information, conversation or concerns at:
Info@SylvanTreasures.com

Or contact us by U.S. Mail or phone at:
Sylvan Treasures
Mike & Maggie Fraser
329 Russell Road
Berryville, VA 22611

(540) 955-2720
Site Updated: 28 August, 2013
---